A life of music and service
Dave Lagadi is more than The Gardens of Hendersonville's transporter — he's also the residents' favorite live act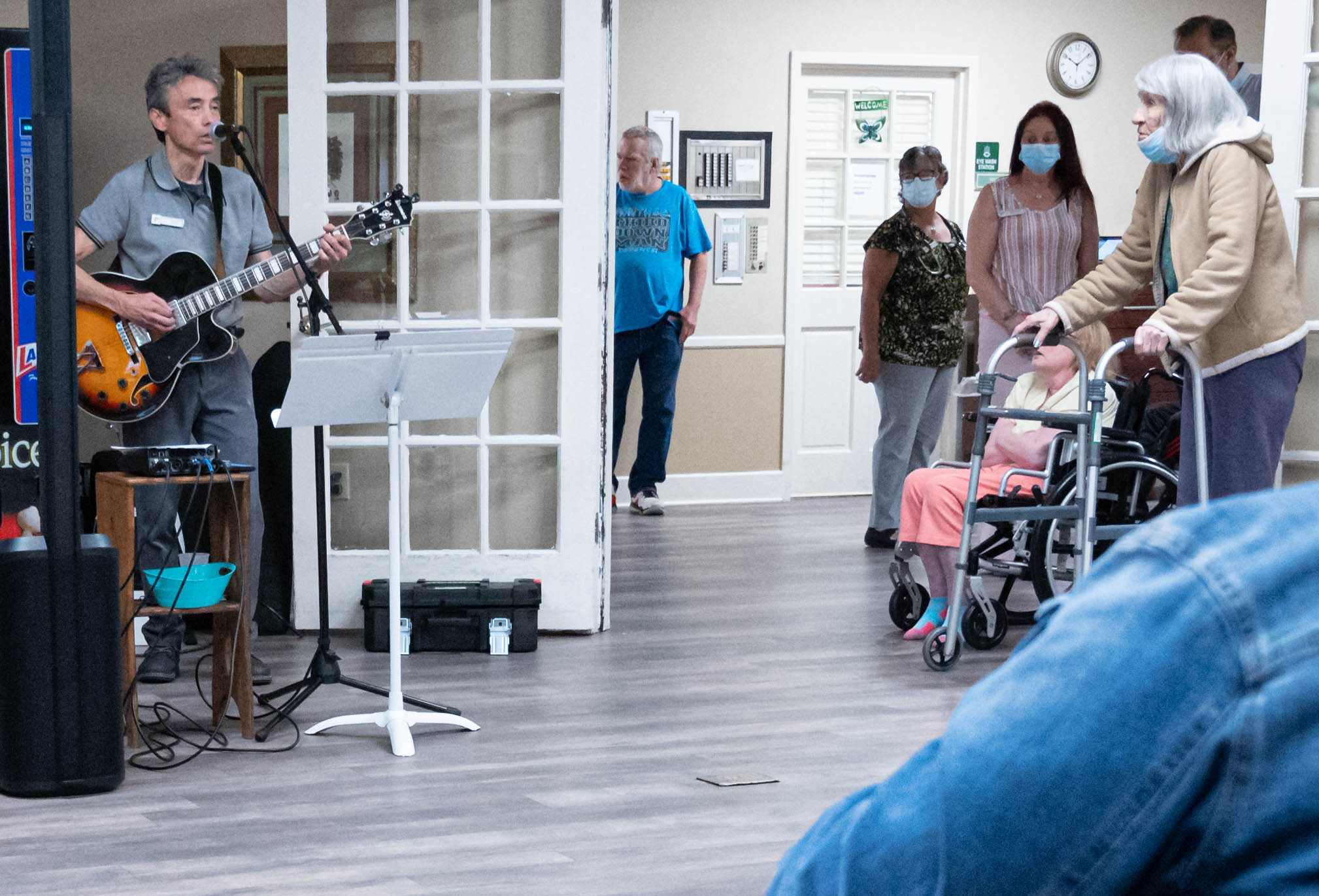 They gathered around to sing along as he crooned his way through the legendary Elvis tune "Can't Help Falling In Love" and burst into thunderous applause before he launched into his next song. Then, when the show was over and he'd packed up his microphone and his guitar, Dave grabbed the keys to The Gardens of Hendersonville's van and made sure his residents got to their appointments on time.
That's because Dave Lagadi's day job is being The Gardens of Hendersonville's transporter.
On Tuesdays, Wednesdays, and Thursdays Dave drives for his community — a schedule that leaves him ample time for his music.
"I'm semi-retired, and I usually play music on as many days off as I can," he said. "My work at The Gardens dovetails nicely with my schedule."
From Sinatra and Louis Armstrong to Merle Haggard and Garth Brooks, from The Beatles and Billy Joel to James Taylor and Jim Croce, Dave plays it all. His trick is to learn three or four of each artist's biggest hits, which he'll play as a medley — if the mood strikes. And his repertoire includes hundreds of songs.
He's been performing as a singer and guitarist since he was twelve years old. And he's performed from Dallas to Alaska and from Florida to North Carolina.
He has two guaranteed showstoppers in his set that move the seniors in his audience every time: "Over the Rainbow," and "What a Wonderful World."
"'Over the Rainbow' reminds them of the first time they watched 'The Wizard of Oz,' and 'What a Wonderful World,' reminds them of their lives, and how blessed they are to have lived so long — especially the lines, 'I hear babies cry, and I watched them grow / They'll learn much more than I'll ever know / And I think to myself, what a wonderful world,'" he explained.
Music has always been a big part of Dave's life and the subject came up early in his job interview with The Gardens of Hendersonville's Executive Director Sandy Arrowood.
"David came to us about three months ago," she said. "The first thing he did was give me his business card and invite me to his show."
Dave's introduction to the senior living world came at another community where he worked for a couple of years as an activities director. He landed the job as COVID was looming and the director saw that lockdowns were imminent, which would have meant that outside entertainers would no longer be able to play music for the residents. Having Dave on staff meant he could lead activities and perform regularly in the community.
Performing for his community has remained a key part of his job now that he's with The Gardens of Hendersonville, but he takes his role as transporter seriously.
His main duties include driving residents to their doctor's appointments. Many have family who attend the appointments with them, but when they're not available, Dave accompanies them and makes sure they're able to communicate their needs and concerns with their doctor.
"He wants to make the residents happy — that's what caught my attention when I met him," Arrowood said. "It makes him happy to see them happy."
And his fans agree.
"Dave is very energetic and outgoing — he wears many hats around this place. He's our bus driver, but he also plays music for us and teaches an exercise class for the residents," said Gardens of Hendersonville resident Lisa Ward. "All of his songs are very sweet — I would call him a sweetheart."
Born and raised in Dallas, Texas, Dave joined the Army in 1972. His original plan was to serve in a missile defense unit in Europe, but life didn't pan out that way. He'd been playing music and signing since he was 12 years old. The Army discovered his skills and they liked what they heard. Dave was assigned to Special Services. Unlike George Strait (who'd been stationed in Hawaii where he played in an Army-sponsored band called Rambling Country) Dave was headed in the other direction.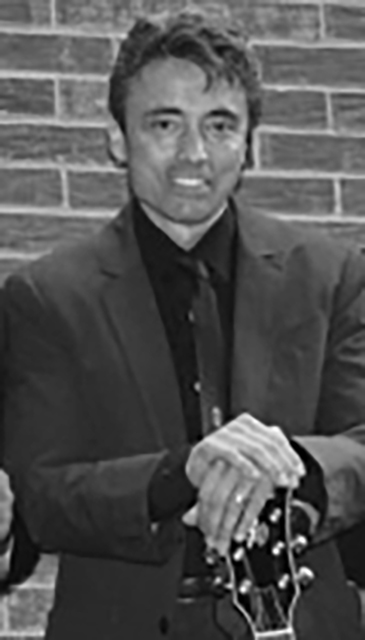 "I got to Alaska by the grace of Uncle Sam," he said. "All I knew about Alaska was that it was cold there, so I asked, 'Can I trade these orders for Vietnam?'"
He was in Fort Polk, Louisiana at the time and it was about 100 degrees. His commanding officer informed him that it was currently about 70 degrees in Anchorage. That was all the convincing Dave needed and he headed north.
He spent much of his time in the Army entertaining the troops, and the locals in the evenings and on the weekends. There were certain perks associated with his position.
"I never had to wear a uniform, and my hair wasn't regulation," Dave said.
Having been trained as a barber when he was 16, Dave developed a specialty that was in high demand. He would give his fellow soldiers a haircut that could be combed back to appear regulation during duty hours, but would hang down over the ears a bit, as was the 70s style, when the soldier was off base and off duty.
When his time in the Army was over, Dave became an entrepreneur. First, he opened several hair salons. Then he ventured into work as a cranial prosthetist specializing in natural-looking hairpieces custom tailored for those who were suffering from medical related hair loss from cancer treatments, cranial injuries, and surgeries. He expanded into hair transplants and breast prosthetics for cancer patients.
In 2004 he sold his businesses, left Alaska behind and moved to his wife's hometown of Winston-Salem.
New in town and looking for venues where he could play and sing, Dave met a fellow entertainer while working out at the local YMCA. His new friend, who'd been a backup singer for Patti Page, invited Dave along to perform at some area communities for seniors.
Dave was hooked immediately.
"I take them back to their heydays by singing the songs from when they were young," he said. "I just love how deeply these songs affect people in this stage of life."
The music is important, but it goes deeper than that.
"This is my calling. So many people diminish the purposeful lives these people had. They deserve our respect," he said. "I like to talk to them and have them tell me about what they used to do. These people are worthy, they're worthwhile and I want them to know that they haven't been forgotten."
While Dave looks younger than his years (a fact he attributes to good genetics, a healthy lifestyle and inspiration from Jack LaLanne) his senior living audiences regularly include fans who are younger than he is. And performing for his contemporaries helps give him a natural connection with his audience.
Dave and his wife enjoyed their new lives in North Carolina, but they missed the mountains, and it wasn't too long before they found their way to Asheville, and his job at The Gardens of Hendersonville — which is about two miles away from his home.
These days Dave's doing exactly what he wants, what he loves — serving others.
"I used to not like people to see me set up my gear. I seemed like changing from a musician to a roadie, but I noticed something. The people in these communities, they're intrigued. They sit and watch my every move when I'm setting up, when I'm tearing down. They're with me the whole time and it gives me a chance to visit with them. So many of them are just hungry for fellowship," he said. "It's an honor to get to know them, to spend time with them, to make their days just a little brighter."